Carnac Island 1/2 Day Sail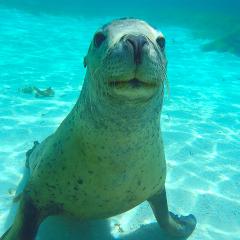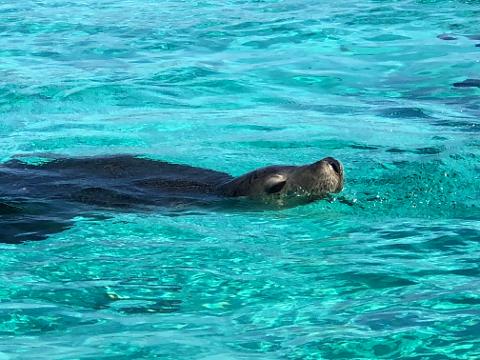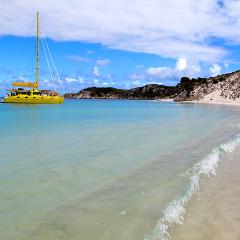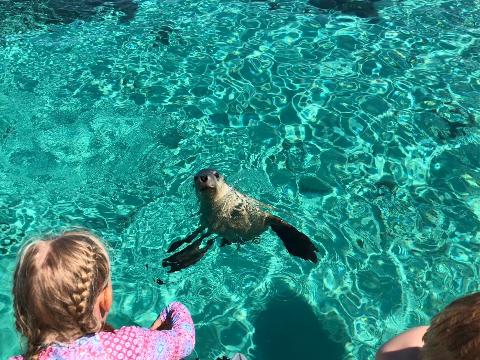 Duration: 4 Hours (approx.)
Location: Fremantle, WA
Product code: PKLLGX
Lying between Rottnest and Garden Islands, this A class nature reserve is teeming with wildlife (David Attenborough has even done a documentary on the wildlife here).
Carnac Island is a leisurely 45 minute sail from Fremantle Boat Harbour, through the gentle waters of Cockburn Sound. It is an important haul out location for Australian Sea Lions and a myriad of sea birds as well as boasting spectacular diving, snorkelling and fishing. A large sheltered bay on the eastern side of Carnac provides a safe haven from the southwest wind and swell – you just might have to share the beach with some playful juvenile Sea Lions! Bottlenose Dolphins are also very common in the area and Capella is able to get closer than other boats without noisy motors to scare them off.
The clear, calm, shallow waters of Carnac island allow Capella to venture almost right up to the shore where you can literally step off into waist deep water to frolic with the Sea Lions or head off for a snorkel. If the easterly is up no worries!... The western side of Carnac is an absolute delight with high limestone cliffs plunging into the water and a truly spectacular anchorage perfect for paddling the kayaks around.
Note: this is a water based tour. As an eco tour operator, Charter 1 respects the Sanctuary Zones and resting areas of local wildlife and does not permit guests to go onshore.


INCLUDES:
A leisurely cruise to/from Carnac Island, under sail if wind permits
Anchored in a beautiful shallow waters, make use of the snorkeling equipment (provided), kayaks and stand-up paddle board

Learn about the Sea Lion colonies that call Carnac Island home from our expert and passionate guides.

Delicious morning tea* before sailing back to Fremantle (*see notes)
Price includes booking and card fees - no hidden extras at the checkout
WHAT TO BRING:
Bathers & Towel
Sunscreen
Camera (note: drones prohibited)
Additional food or drink if you require** (see below)
WEATHER POLICY
Sailing is an outdoor activity and exposure to the elements should be expected. Perfect weather conditions are never guaranteed.
We reserve the right to cancel and reschedule if conditions become unsafe. Tour cancellations are at the sole discretion of Charter 1. If we are unable to accommodate you on another date we will provide you with a refund.
We endeavor to always give you as much notice as possible but this can be in the final hours before departure when predictive accuracy is a lot more robust.
Charter 1 takes no responsibility for late cancellations impacting other plan you have made (e.g. hotel accommodation). We retain our right to operate within our own terms and conditions at all times.
COVID-19
Charter 1 is following all government requirements regarding COVID-19 in relation to crew and guests.
As at 31st January, passengers are not required to be vaccinated. This is subject to change in line with any government directions imposed at any particular time.
Please keep an eye on our COVID-19 notice for latest updates, available here: https://www.charter1.com.au/covid-19-notice/
RESCHEDULES / REFUNDS
A lot of planning goes in to each sail and ensuring the minimum number of booked guests get to experience this tour on their preferred date.
Tours are non-refundable but reschedules are permitted in accordance with our booking T&C's found here: https://www.charter1.com.au/terms-and-conditions/ Minimum notice applies and fare differences may apply.
*DIETARY REQUIREMENTS / ALLERGIES
Morning tea is provided complimentary as part of this experience. We offer a range of sweet and savory options that caters to most tastes (e.g. fruit, cakes, pastries, juice, coffee/teas), however if you have specific food requirements you are welcome to bring your own. We try to be as broad as possible but are unable to cater to individual needs. Please advise us of any serious allergies (i.e. anaphylaxis) that we should be aware of during the booking process.