Gift Voucher - Fremantle Twilight Sail (For 2)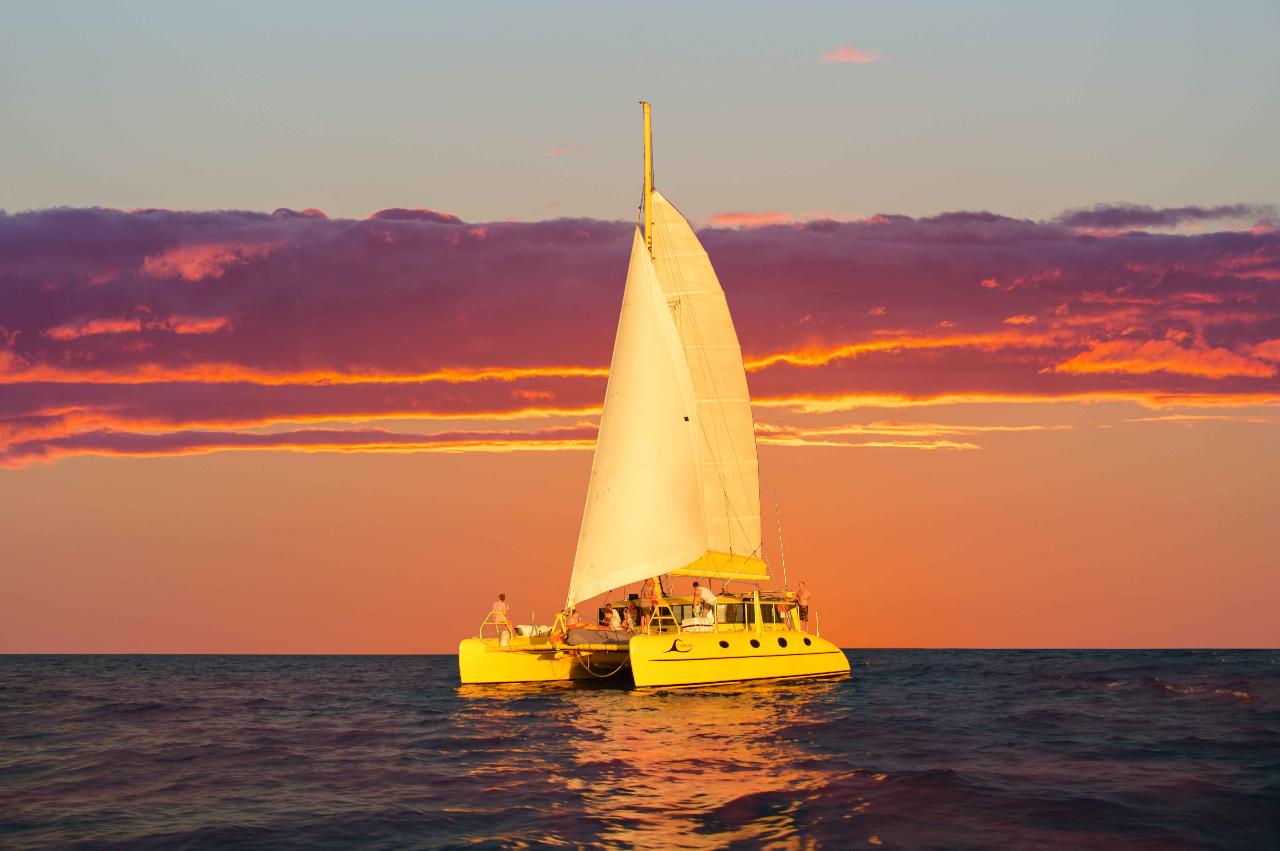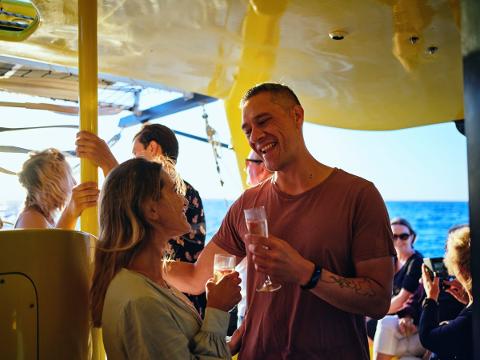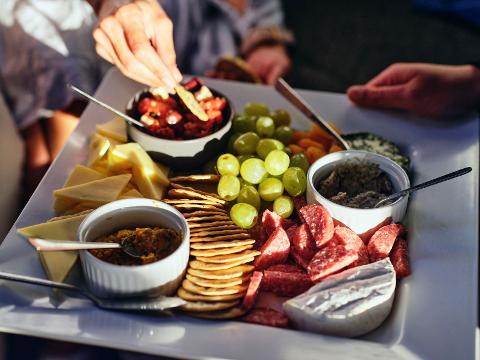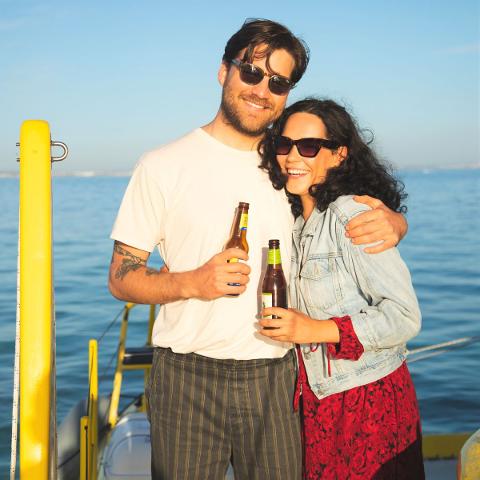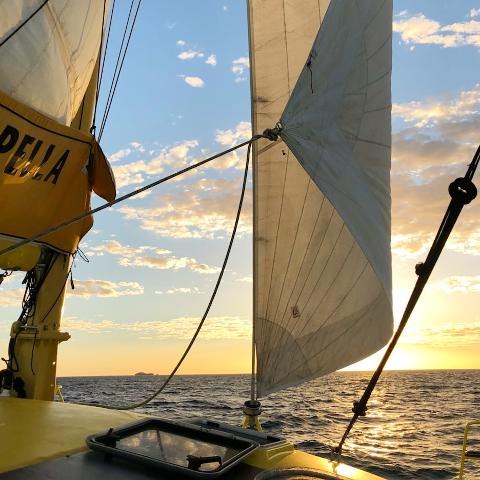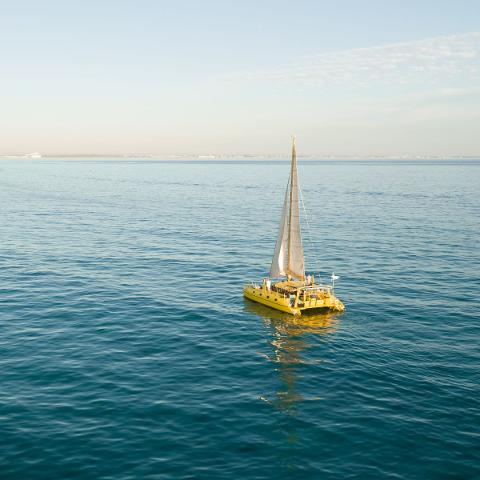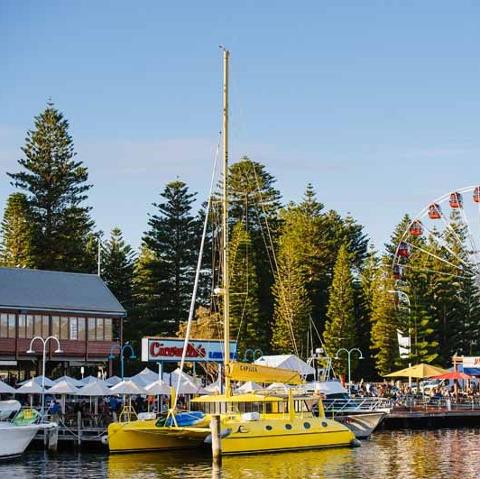 Durata: 120 Minuti (circa)
Luogo: Fremantle, WA
Codice prodotto: PF8FD12
Capella is a luxury appointed 12.5m Schionning
sailing catamaran noted for her stable ride and huge deck space. She's nearly
twice the width of a single hull yacht, meaning plenty of spaces to sit and
relax comfortably, inside and out.
Your sunset adventure will start and finish at world famous Cicerello's at
Fremantle Fishing Boat Harbour.
Experience our magnificent west coast
sunset and watch Fremantle, the Port and Harbour come alive with a kaleidoscope
of colour as we watch the day turn into night. We may even be joined by a pod
of dolphins which love to play around the front of the boat as we sail into the
sunset.

A glass of sparkling on arrival and shared antipasto during is provided during your sunset
sailing experience. Guests can also BYO additional drinks, so there's no extra costs to worry
about.
Note: This tour operates on selected dates from Fremantle November to April, subject to availability. Vouchers purchased through our website are valid for 3 years from purchase date. Gift vouchers are redeemable to the experience price paid at the time of purchase. Any differences in price at the time of redemption may apply.
KEY HIGHLIGHTS:
Luxurious state-of-the-art 12.5m Catamaran

Watch the sun set over the Indian Ocean
Keep an eye out for dolphins

Keep an eye out for whales from September to November!
WHAT'S INCLUDED:
BYO additional drinks (no spirits)
Delicious shared antipasto
Glass of sparkling on arrival
Possible wildlife spottings (Dolphins, whales*)
Get involved in the sailing - our crew will happily show you the ropes!
10% off Cicerello's food menu
*October and November only
ADDITIONAL INFORMATION
Sailing at dusk is generally an adult environment. Please contact us regarding bringing children onboard.
There will be other guests on the boat with you. For groups over 8 in size please contact us directly to discuss a private charter.
We operate with a minimum of 10 and typically a maximum of 24.
If minimum numbers are not reached we will contact you a few days out to discuss options. We will try to reschedule you onto your next preferred date. However if we are unable to accommodate you on another date we will provide you with a refund.
Catamarans do not rock from side to side, often reducing the chance of sea sickness. However if you are prone to seasickness we recommend discussing with a pharmacists before booking.
You are welcome to take part in the sailing, raising, lowering and trimming of the sails and taking the helm - please let our crew know you'd love to join in!
Remember, sailing is wind and weather dependent, so the choice of direction and destinations will need to be evaluated nearer to the day. We reserve the right to cancel and reschedule if conditions require it.
It is advisable to bring a warm and/or windproof jacket for when the sun goes down.
Casual, comfortable clothing is recommended. Bare feet on deck is preferred
or white, flat soled shoes please. No heels on deck.
Departs from Cicerello's main jetty - Mews Rd, Fishing Boat Harbour Fremantle. Please allow extra time to find a car park especially on weekends, and ensure you arrive at least 15 minutes prior to your scheduled tour. We cannot hold up the other guests if you are late.
Tour requires the use of steps and steady feet for moving around the vessel whilst underway. Please contact us if you are unsure whether this tour is suitable for you - we will do our best to accommodate you where we can, providing it is deemed safe. Pregnant guests over 32 weeks gestation are advise to contact us prior to booking.
Smoking and the use of drones are prohibited. Intoxicated guests will be refused boarding with no refunds given.
WEATHER POLICY

Sailing is an outdoor activity and exposure to the elements should be expected. Perfect weather conditions are never guaranteed.

We reserve the right to cancel and reschedule if conditions become unsafe. Tour cancellations are at the sole discretion of Charter 1.

If we are unable to accommodate you on another date we will provide you with a refund.
RESCHEDULES / REFUNDS
A lot of planning goes in to ensuring that guests get to experience this tour on their preferred date.